CERAiT Mobile Dash
CERAiT Inc. is a Global Information Technology consulting firm, based in Toronto, Canada specializing in web consulting, complete web based solutions develoment, decision support systems (DSS) solutions  and custom software application development for the corporate community.
CERAiT Mobile Dash - Executive Team Mobile Dashboard Key Benefits
A business manager should rely on accurate and clear information in his/her decision making process. CERAiT Mobile Dash provides a powerful business control panel tool for anyone who manages business at any level. Smart phone technologies provide the possibility of making such data available virtually at any time, any place.
CERAiT Mobile Dash can take in business data from various existing organizational data sources and transfer them to a mobile phone or a tablet
Presents data in a clear, concise and useful form, allowing the manager to collect the relevant information, necessary for an easier decision making process
Data sources may include: databases, ERP, CRM, PM software, sensor systems, web sites and many others.If data exists in digital format, CERAiT Mobile Dash will be able to capture it and present it on your device of choice in a secure method
The system performs it securely anytime, anywhere
It can be set to notify the user visually and/or audibly of certain changes in the data, allowing for a decision to be made.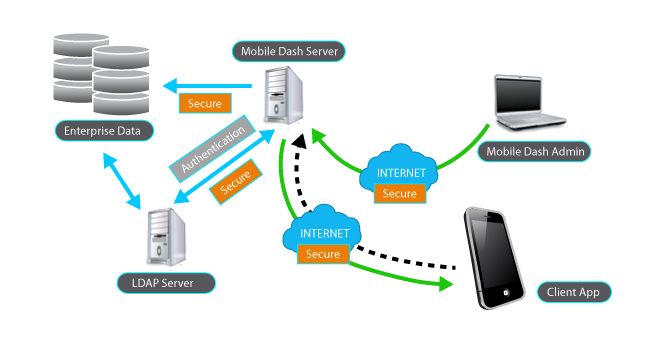 CERAiT Mobile Dash - Executive Team Mobile Dashboard Features 
Web browser smart phones browser, Android, iPhone/iPad client support
Multiple user profiles
Role based security model
Security integration with your existing LDAP or other authentication and authorization methods used
Alarm and notification features
User friendly, easy to navigate and administer
Flexible and customizable within multiple departments and project structures
Can be hosted on a private server or our secure environment
Access to all of market's relevant databases which include relational systems such as: MS SQL server, Oracle, DB2, Sybase, Informix, Firebird, MySQL
Support for: MS Access, text files, XML files, different ODBC drivers, and even
Excel files.
Integration with SOAP web services, and other technologies such as JSON and REST.
SAP, PeopleSoft and ORACLE Financilas connectors available
Primavera and MS SQL connectors available
Possibility to retrieve relevant information directly from HTML pages
Support from any other sensor generated data format
Support for ActiveDirectory (LDAP) and Nagios
 
CERAiT Mobile Dash - Applications by Industries
Current CERAiT Mobile Dash Implementations
Bobar Bank, Balkan Regional Bank - remote monitoring of bank's ATM machines
Serbian National Institute of Physics - remote monitoring of power grid used, Cern related exploration
Banca Intesa- monitoring the transactions queues
Serbian Chamber of Commerce - remote monitoring of KPI (part of ISO 27000 certification)
Belit, Hotel Complex on Mountain Zlatibor - remote monitoring of the temperature in apartments
Dunav Insurance, Regional Insurance Company - remote control datacenter doors status (part of ISO 27000 certification)
Algotech, SEE Global ICT Service & Solutions Provider - sales activity monitoring (integration with SugarCRM)
PTT Serbia, Serbian Public Post Office Corporation - monitoring the invoice printing process (mission critical)
Quad, ICT services, hardware and spear parts provider - integration with Pantheon ERP, resource availability monitoring

Examples
CERAiT Mobile Dash Price
As every project is unique, please contact us with your specific needs. We will help you find 

the most optimal solution for your budget

.
We use proven software development methodology and the best industry practices to provide you with the most suitable custom software solution in an efficient manner.
Our focus is to provide widely adopted, open-source-based solution, to get the biggest bang for your buck.
 
Initial consultation is free with no obligation.
Please contact us for more info about our services, or to schedule a personalized CERAiT Mobile Dash demo.
HARNESSING THE POWER OF MOBILE APPS FOR THE BENEFIT OF YOUR BUSINESS