Healthy Break Pro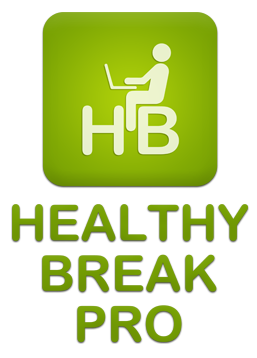 Tap and start caring about your health. Take a healthy break during your workday!
About
If you have a desk job or sit for prolong periods of time, this is the right app for you! In addition to gaining weight, desk and sitting jobs increase the strain on your back, wrists, neck and eyes. Periods of extended inactivity can cause muscles to lose their tone. Since most of us sit most of the time, appropriate exercises are necessary to keep our body in a healthy state. Take a short break during your work day and execute a simple, fun and healthy exercise.
Healthy Break Pro app is designed to motivate you and remind you when time is to take a short break and do appropriate exercises. Instructions and pictures are provided for each exercise.
For enjoying life, healthy body and mind is essential. Take a first step and make a habit of performing regular healthy routines. Install the Healthy Break Pro app and let it be your friend and guide in achieving a healthier and happier life. And start today, because your body deserve it.
Features
Easy to do exercises
Instructions and pictures for each exercise
Simple to set exercising notifications
Set notification time interval – Set how often you want to be reminded
Set break duration – From 1 to 10 minutes
Set number of exercises per break – From 1 to 6
Set notification repeating – On daily basis
Custom notification repeating – select days of week
Set notification sound – 17 different sounds available
Set next exercise sound – 17 different sounds available
Statistics – Count of done, missed and paused exercises
Available for
Requires iOS 5.0 or later.
Let CERAiT be your trusted guide and partner to the next-generation customer service.
Contact us today for more info and to book a quick demo.
HARNESSING THE POWER OF MOBILE APPS FOR THE BENEFIT OF YOUR BUSINESS